WHAT IS AN ELECTRIC BIKE AND WHY SHOULD I GET ONE?
What is an E-bike?
E-Bikes look and feel just like traditional bicycles, with a key difference – they include an electric motor and battery for an extra boost. The motor can help you conquer hills, keep up with traffic, or pull a trailer. E-bikes with pedal assist turn on the motor when the rider pedals. E-bikes with throttles can turn on the motor to propel the bike even when the rider does not pedal. Pedal assist provides 4-6 levels of power assist that automatically support your pedaling. If you regularly commute through hilly or windblown areas, you'll find this feature extremely helpful. The pedal assist function can be switched off when a rider wants to use the throttle mode only, no pedaling needed, just tap and go.
Whether your goal is getting fit, commuting to work, or cruising the beach, an e-bike can help you go faster and further:
Electric motors – All of our e-bikes use powerful hub motors, ranging from 350 to 700 watts.
High-performance battery – Just like your laptop or an electric car; with Lithium-ion cells. Recharge from any standard wall outlet
Handlebar controls – Turn your bike on and off, choose level of pedal assist; plus throttle (either thumb or twist throttle)
Display – shows you how fast you're going, your current level of pedal assist, and much more.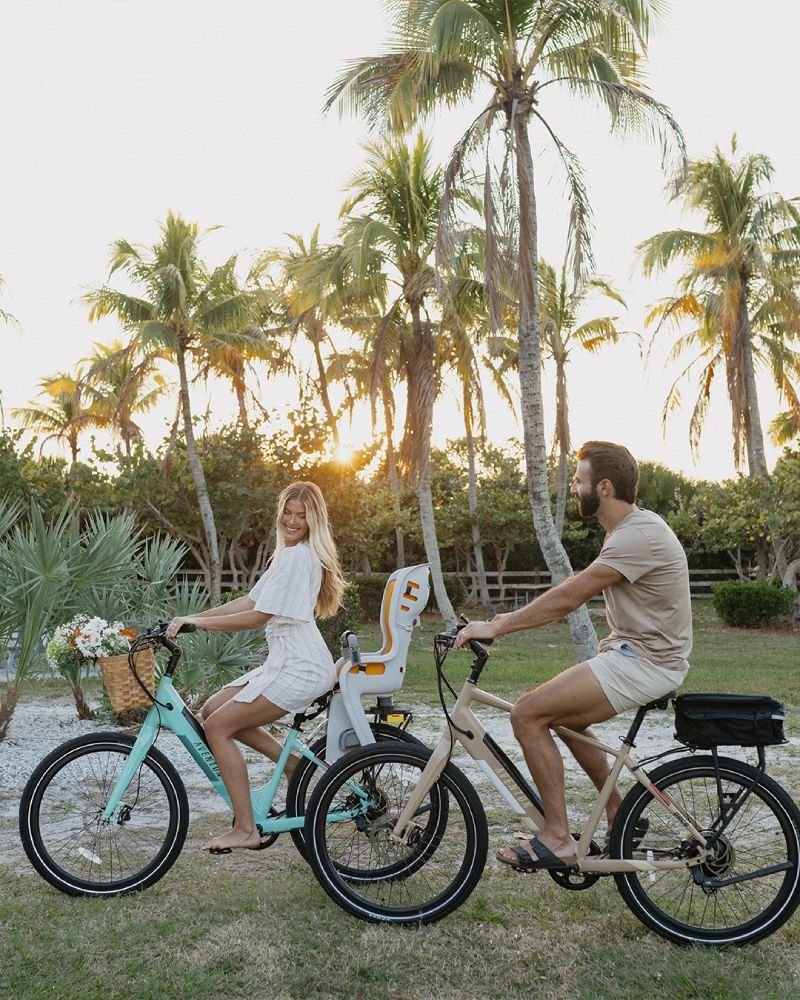 It feels like being a kid again!
Think of all the cool implications. On city bikes, electric assist means commuters who might otherwise climb in the car because they're late can take their e-bike and still get to the office on time. Pedal-assist and throttle bikes have also been shown to extend bike commuting range, since the electric help makes it feasible to go longer distances. Electric bikes can also be used for running errands and recreation, enjoying how far and long they can ride. Our commercial customers use e-bikes instead of golf carts, Segways and other utility vehicles. With no license or registration required, an electric assist bike is a great transportation tool that anyone who can ride a bike can use!
Did I mention that electric bikes are great for seniors too? If you used to ride a bike but can no longer do so due to lack of fitness, health issues, mobility and more, than consider an e-bike. The pedal assist and throttle will give you a boost to make a difficult bike ride virtually effortless.
We have electric bikes that will cruise the beach, climb a mountain or commute in the city, plus everywhere in between. Still not convinced? Then stop by for a test drive. Do you know how much fun it is to add 500 watts of power to the 500 watts you're already putting out? In the city, riding feels safer because you can easily keep up with and dodge in and out traffic. On hills, it makes you laugh out loud when you realize how little effort it takes to climb. And, want to hit the beach with your bike but dread the climb on the connector to get there? Not a problem with an e-bike.